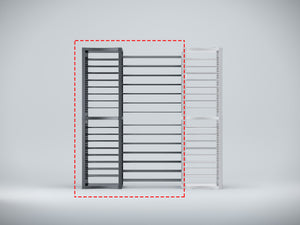 Time to upgrade your system, your Highness? Simply add this extra wide BoxThrone Tower expansion to add an extra 108 cm of width to your wall of glory. This expansion can hold up to an additional 100 games! Includes:
One epically colored BoxThrone tower frame (approximately 152 cm tall)
16 specially crafted, individually wrapped, lightweight metal shelves
14 extra wide (67.5 cm), high-capacity metal shelves
Easy-to-use anchor kit to fix your system to the wall
16 colored hole covers to keep your BoxThrone's appearance clean
Easy-to-follow assembly instructions
Note: Pre-orders ship approximately 2 months after orders lock.