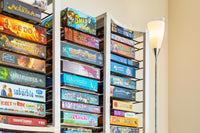 Treat your games royally
Don't settle for bookshelves. It's time to take a stand with your own custom, modular board game shelves.
Make way for the BoxThrone.
Every game deserves its own shelf
No more storing board games sideways.
No more split boxes and jumbled pieces.
No more landslides when sliding games from the bottom of a stack.
One game, one shelf.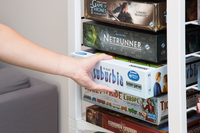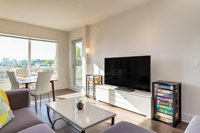 Modular. Expandable. Adjustable.
BoxThrone board game shelves are modular, so you can add or remove shelves and frames as needed.
With its adaptable design, the BoxThrone is the perfect fit for any space and any collection size.
Seamless walls of shelves
Crafted by passionate artisans who know the importance of clean design.
BoxThrone's pillars are double-notched, meaning you can bridge BoxThrones together by simply adding shelves between units. Build your storage kingdom and create five stacks of shelves with only three stacks of BoxThrones.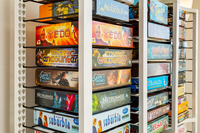 THE WORLD'S FIRST ADJUSTABLE BOARD GAME SHELVING SYSTEM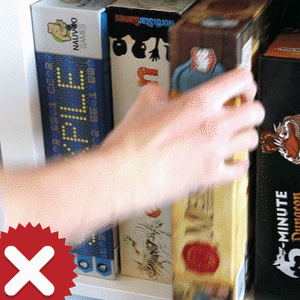 Keep your games tidy
No more pieces tumbling out of their inserts. Horizontal game storage means pieces come out of the box the same way they go in.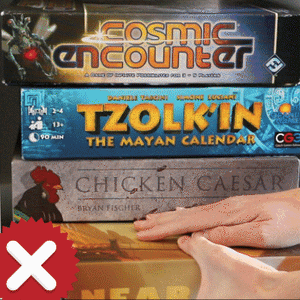 Keep your boxes protected
You don't have to settle for wiggling games from the bottom of the stack and wearing down your boxes. Reduce damage and friction with easy-sliding shelves.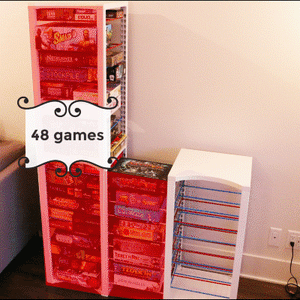 Keep your space compact
A shelving system built for size. Not only can a BoxKing store up to 120 games, many larger games that won't fit onto cube shelves will fit directly onto a BoxThrone.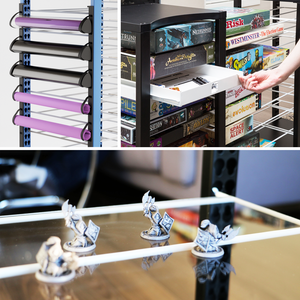 Personalize with custom accessories
Transform your BoxThrone into the ultimate board game storage system with accessories like playmat holders, glass-like display panels, laser-cut drawers and more!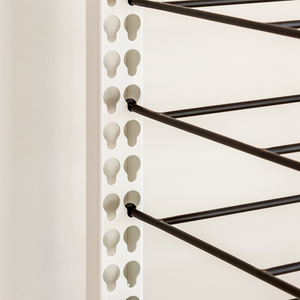 No more sagging wood
Built to last. The high-strength metallic components of the BoxThrone will outlive your saggy wooden shelves, and stand nobly for time everlasting.
Testimonials (click and drag to see more)
Needless to say we are *obsessed* with our 'Throne. I love love love everything about it - well made, easy to put together, and will travel well when we move! 

Hannah C, Backer #1681
Awesome job on the packaging, everything was well protected and the quality of the material was amazing! Even better then I had imagined. Came together perfectly, I couldn't be more impressed and Box Throne deserves a job well done. I'm beyond thrilled with the product!

Jessica F, Backer #2027
We LOVE our Boxthrone! Thanks so much for all the hard work your team put into this!

Nyarii, Backer #3586
Literally an entire wall to the ceiling is BOXTHRONE! Overall it's a FANTASTIC product. Can't wait to order more!

Joseph H, customer, via Facebook
To be honest the final product is amazing. Everything feels sturdy and looks great. Great job BoxThrone team.

Terry L, Backer #734
I love how easy they are to put together and how light they ended up being assembled!.

Will E, Backer #758
It's up, it's up, it's up! Absolutely loving this addition to the game room and can't wait to expand!

Janis V, Backer #970
Finally, everything has a permanent home! Love my BoxKing! Thank you BoxThrone!

Ben Worden, Backer #1603
It's been a full week since I received (and immediately built) my Box King set and I must admit I'm really loving it! The product really shows great quality and totally delivers on what I was expecting: having one game or shelf without losing much space. It's brilliant and I'm already waiting for the store to open so that I can buy some more!

Renaud L, Backer #3797
UK and EU Friendly!
All orders on this site ship to EU member countries and the UK VAT-free until July 1!