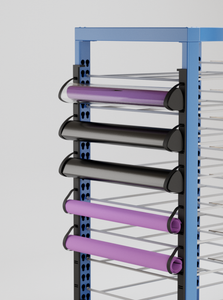 Why collect all those playmats if you never put them proudly on display? It's time to parade your playmats using the BoxThrone's hanging playmat holder. Don't hide them away in a closet, you can now keep your playmats on display and within easy reach!
The playmat holder hangs off the side of the BoxThrone and can hold up to 6 playmats.
The adjustable straps allow the hanging playmat holder to handle almost any thickness of playmat.
When hanging, the playmat hangers will be approximately 35 cm apart. Some smaller playmats may need to be rolled width-ways or inserted into tubes to reach each of the hangers.
Contains:
Two metallic playmat hangers
Twelve adjustable straps
Please note, the plastic tubes and mats in product photos are for demonstrative purposes only, this product does not include any tubing.